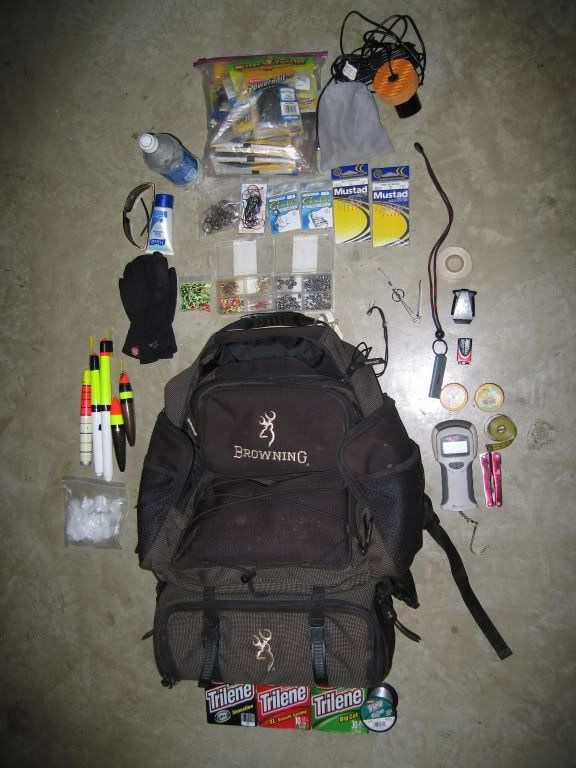 My tackle backpack and current contents
Now you've seen a look at Sean's gear, here's a look at mine. As mentioned before, the backpack style tackle box is no doubt our favorite. When shore fishing, carrying your tackle is inevitable, and keeping as much out of your hands is key to hauling around ample amounts of gear. To the right is a picture of my trusty backpack and current inventory which has served me well for several years.
From the bottom going clockwise the contents are as follows:
Four spools of line ranging from 8-30lbs, styrofoam pieces, large floats, fingerless gloves, sunglasses, sanitizer, bottle of water, bag of plastic baits, portable depth/fish finder, various unopened hooks and rigs, knots and beads, small box containing small hooks and jigs, small box containing split shots, clippers multi-tool, hook sharpener, electrical tape, headlamp, extra 9v battery for scale, powerbait jars, 50lbs digital scale, tape measure, and pliers multi-tool.
Other than whats pictured, the most common items I put in my backpack would be extra cloths and food. Its not unheard of for my backpack to weight in excess of 30lbs when fully packed for a long trip.
Below is a picture of the contents of my plastics bag, I'm quite fond of Berkley PowerBait.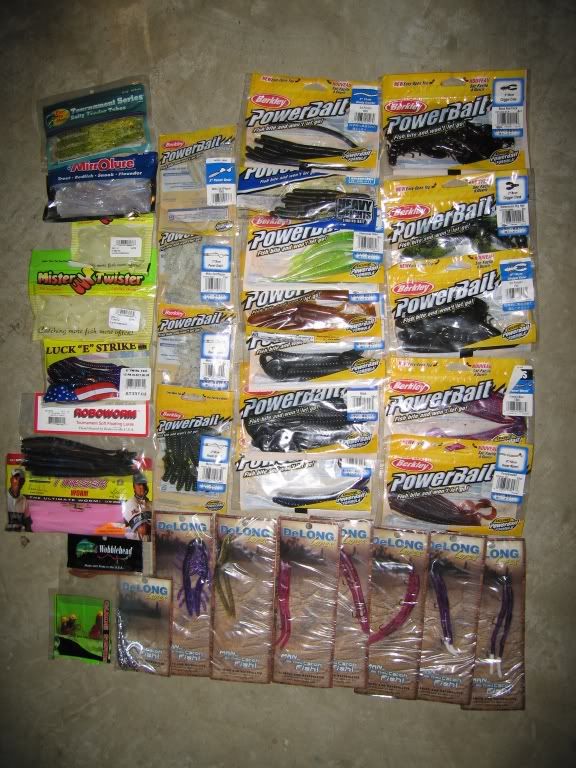 My soft bait collection
Furthermore, below is pictures of all of my bait boxes and there contents.
| | |
| --- | --- |
| Hooks, swivels, and sinkers box | Bass hooks, jig hooks, small floats, etc. |
| Crankbait box | Jigs, spinnerbaits, used plastics, etc. |
I also keep a good stash of extra sinkers as they are a common victim to snags.
Sinker stash containing 2-4oz sinkers in various styles
Finally, here's my rod and reel collection. It's not nearly as organized as Sean's, just a small store bought stand that will only hold the smaller rods. Also pictured is my aquarium which contains a Bullhead catfish named Bob who is hiding under the rock.
My rod and reel collection as well as my aquarium